Technology that stands out
Features:
High Energy Efficient.
Extremely simple and easy to operate.
Unobstructed views.
Extreme sound insulation.
Extra large sizes.
Up to 50mm glazing possible.
Co-extruded gaskets.
It doesn't get any better: the 85 mm lift-and-slide door from GFT impresses
with its high energy efficiency and user-friendliness: even at its maximum
size of 7 m x 3 m, the door can be opened and closed without effort and
ensures a smooth and barrier-free transition to the outside. It has been
tested under extreme conditions: whether it is driving rain, storms or any
other extreme weather conditions: the GFT lift-and-slide door keeps
everything out.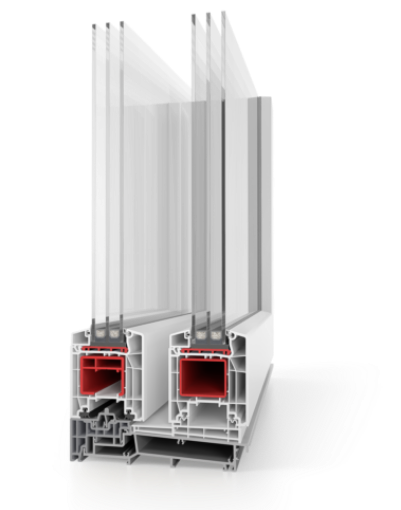 | 85 mm | 1.1 W/m²K | 0.63 W/m²K | Up to RC2 | Up to 44db |
| --- | --- | --- | --- | --- |
| Construction depth | Best Ufvalue | Best Uwvalue | Safety | Sound insulation |
The elegant connection between inside and outside

Let the sunshine in! The lift-and-slide door creates light-flooded rooms and ensures you enjoy beautiful views over your natural surroundings thanks to very wide opening angles. It has been designed especially as a door for patios, balconies and gardens. Another advantage is its space-saving design: The sash slides parallel to the fixed pane of glass, which means it does not occupy any extra space. The result? Spacious room designs with added value in terms of living comfort!
Save air conditioning costs with ideal thermal insulation

The lift-and-slide door is available in three different designs: from the basic version that meets all the requirements of the latest German Energy Savings Regulation to the standard version with extra thermal insulation all the way to the premium version with excellent, passive-house-level thermal insulation values.
Typologies Possible